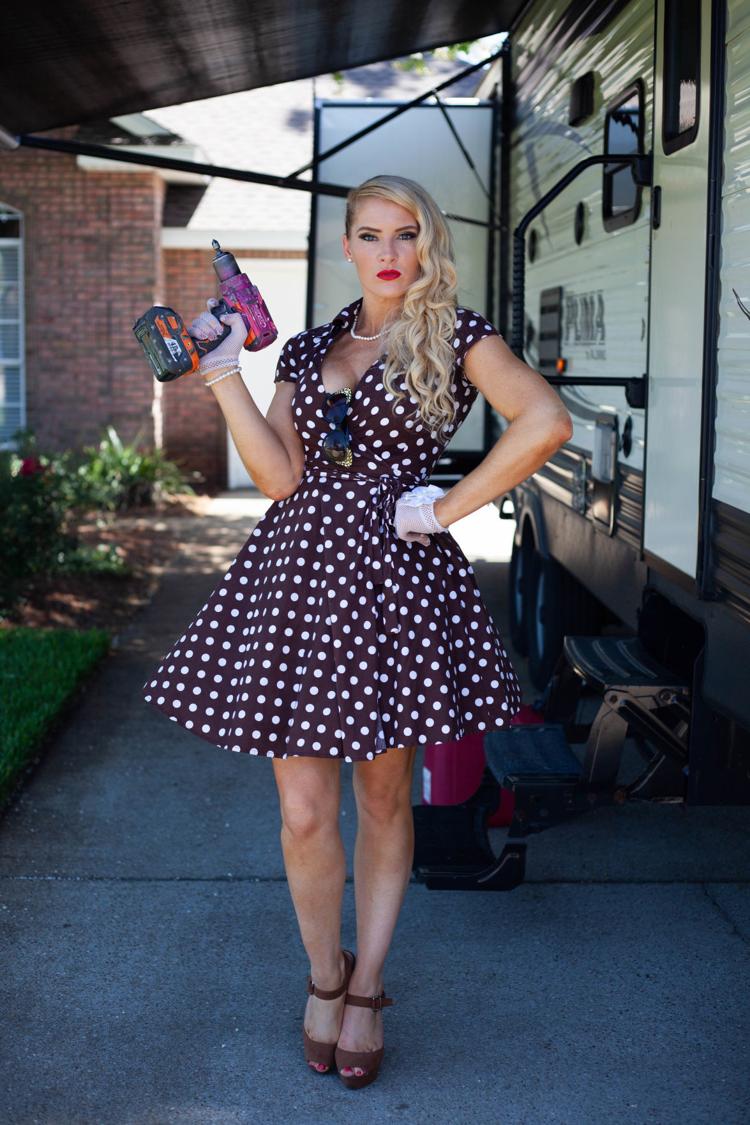 When her name is called, the packed arena of wrestling fans roars to life. Her theme song rings out from the speakers. The announcer introduces her as the sassy Southern belle! She sashays down the ramp, climbs over the ropes, flings off a wide-brimmed hat, and gets ready to do battle.
Her name is splashed 10 feet tall across giant billboards all around the ring. Tall and blonde, athletic and glamorous, she looks like a Hollywood superhero. All eyes are on her.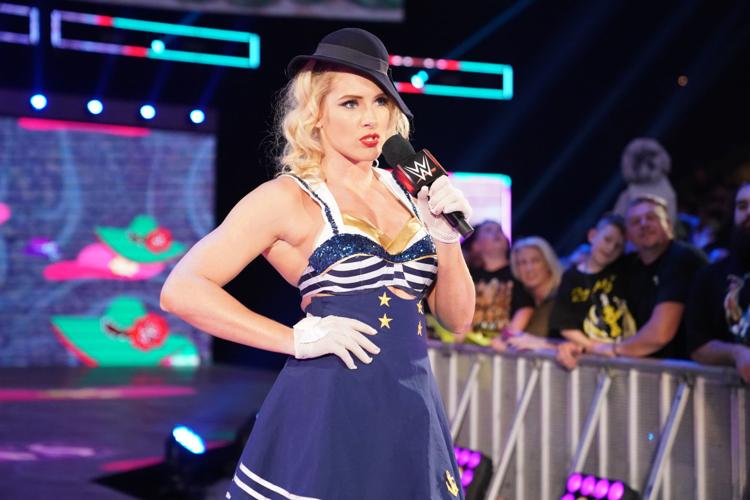 Today, she's a fan favorite for World Wrestling Entertainment, or WWE for short. She gets fan mail from little girls who write to tell her how much they look up to her. She's a celebrity spokeswoman in TV commercials. Toy companies make action figures in her likeness.
But it was only four short years ago that she toiled as an anonymous Marine Corps sergeant based out of South Carolina. She was raising a daughter with her husband, and she had no inkling that one weekend of leave would lead her down a path to international fame and stardom.
Lacey Evans isn't her real name. That's the character she plays in the soap opera universe of pro wrestling. The woman behind the persona is Macey Estrella—the one with the rough upbringing in Florida, the middle child of seven siblings, the daughter of addicts. The one who yearned for a role model of her own. The one working her butt off, she said, to not be like her parents.
Estrella grew up in a troubled household; the sight of police officers at their doorstep wasn't uncommon. But those memories for her are important all the same, she said, because they motivated her to pursue a career in law enforcement.
"When the bad stuff in life happens, who do you call?" said Estrella, now 30. "I remember with the overdoses and addictions, that when they showed up, they saved the day. To me, that was a given. What they made me feel like when they showed up, that was just a great feeling. There was no other question; I wanted to be a military police officer."
However, out of high school, she found herself wracked with guilt over her decision whether to join the Marine Corps, because it would mean being apart from her family.
"It was taking a toll," she said. "For the first time in my life, I had to make a selfish decision to sign [enlistment] papers. Because when you do, you don't turn back. It was very hard at 19, because I knew I wasn't going to be there when they needed me."
The decision would change her life forever. But enlistment meant she went, as she puts it, from holes in her shoes to boots on her feet.
"It was the best thing I've ever done," she said. "It taught me to be the strong woman, wife, and mother that I am. A lot of terrible things happened in between—my father overdosed—and I wasn't there. Maybe I could have changed things.
"But you can't always blame yourself," she added. "I chose the military and a motivated mindset. Every day I wake up and remind myself to take in the sun and know I made the best decision I could. Some days it's harder than others."
She spent five years as an active duty Marine. Her last assignment was as a training NCO for the military police at Beaufort Air Station in South Carolina, where she oversaw everything from log runs to pool swims; today she still makes her home in Parris Island.
The second time her life changed forever, it came on the heels of her decision to re-enlist.
"My staff sergeant did what he called backyard wrestling," she said. "I chuckled. He wasn't a very big guy. I figured [it was] like high school or college wrestling. I had to see it to believe it. So I went one Saturday to see what he was talking about, and I fell in love with it. I wanted to see if I could get into the ring and try that craziness."
Estrella got involved in an independent wrestling circuit. Soon, the WWE got wind that there was a female Marine interested in wrestling, and she was invited to an audition. Her master gunnery sergeant granted her a three-day leave to see what it was about.
"I figured I had nothing to lose," she said. "I was still active duty. Sure enough, they called me within a couple months and they offered me a WWE contract. They were taking a chance with me. I couldn't turn it down. I made the decision to not re-enlist."
After she signed a contract on April 11, 2016, her WWE journey began just like the military did: with boot camp. She went through a regimen of across-the-board training, from wrestling moves to acting classes, at the WWE Performance Center in Orlando, Florida.
She first competed under a WWE brand called NXT, a program for grooming the next generation of wrestling superstars. Soon, she was called up to the big leagues, and she made her debut on iconic weekly WWE broadcasts like Monday Night RAW and SmackDown! Her stock was rising.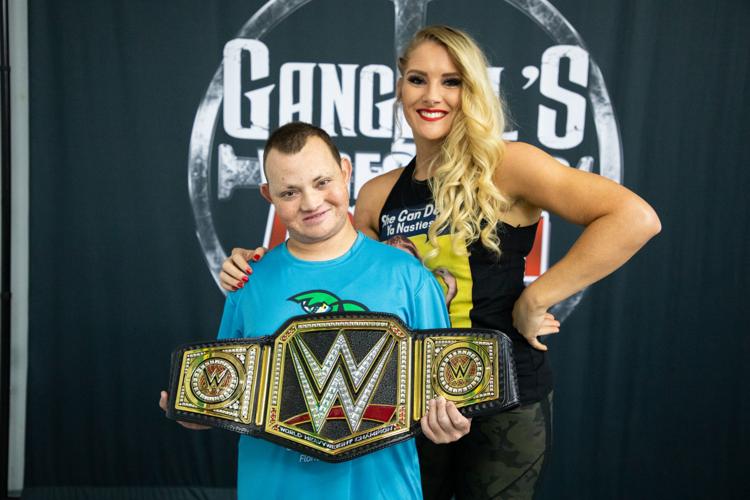 But from the start, she couldn't just take the ring as Macey Estrella. Pro wrestlers from television are larger-than-life characters. They have catchphrases and backstories. There are heroes and villains, faces and heels. She needed a character all her own.
It was here that Lacey Evans sprung to life: she's a classy lady who wears 1940s-style dresses and pinup outfits. She exaggerates her natural Southern drawl and chides her opponents for their lack of etiquette. Her knockout move is a power punch nicknamed "the Women's Right."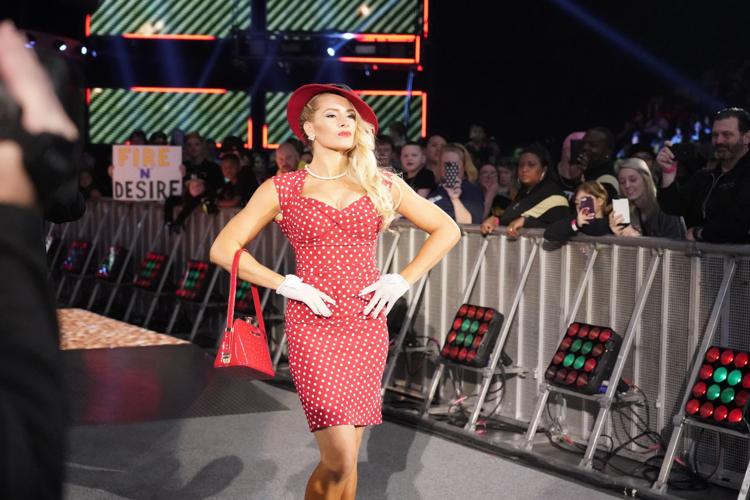 "When the gimmick was created—my whole life, it was always there, I just could never do it," she said. "I love femininity. I love being a mother and a wife. I just never had the opportunity to be the sexy, sassy woman I've always been. While the character was created after the fact, I've always been that way. The gimmick is a part of you; if it's not, it won't ever work."
In the ring, when her rollicking personalized theme song kicks off—Like a lady! Act like a lady! the lyrics go—this Marine sergeant gets to break from the platoon; the middle child finally gets the attention all to herself.
"When my music hits, that woman I've always wanted to be—it's incredible. It's definitely a rush. But you're in work mode. You have a job to do. I'm expected to go out there and entertain," she said.
Being in the spotlight also comes with the pressure of being a role model for little girls everywhere—most importantly, for her 7-year-old daughter, Summer.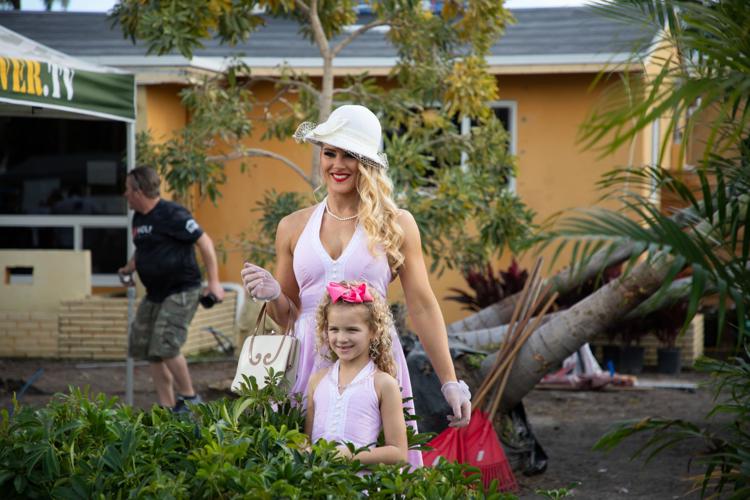 "Just showing what women are capable of, it is just so motivating to me," she said. "There is nothing we are not capable of: we can be beautiful, we can be tough, and that to me is incredible. Around the world, there are mothers who are in awe, and we motivate them: to stay in school, stay off drugs, be confident, and push themselves to chase dreams and never give up."
Starting this year, you also can see Lacey Evans on the Lifetime network TV show "Military Makeover," where volunteers renovate the homes of active-duty and retired service members at no cost to the homeowners. Many of the volunteers are military veterans. The show is fronted by famous talk show host Montel Williams, himself a former Marine.
(At Ease featured Williams on the cover of the March issue.)
Being part of that TV show, Estrella said, is a reminder of the impact that Lacey Evans' newfound celebrity can make in the world.
"I never wanted to be famous," she said. "I came from trailer parks and tents, and I'm fine with that. But the minute I found out I could be famous, and I could have a chance to remind people that it doesn't matter what they've been through, and I can motivate them? I was like, 'Where do I sign?' It's the best feeling in the world to know that."
To see more of Lacey Evans, you can find her on social media.
https://www.instagram.com/laceyevanswwe/
https://www.instagram.com/limitlessladyllc/