From the outside, it looks like any other house on the street. Enter the front door and you might not even notice the details that make this home so special. But it is just those many features that make a Homes For Our Troops (HFOT) house a place for severely wounded veterans to live independently, while they and their families heal and thrive.
Since its founding in 2004, HFOT has built and donated 315 specially adapted custom homes nationwide for severely injured post-9/11 veterans, with 67 under construction noted Bill Ivey, HFOT's executive director.
"One of the things that makes us different is apparent from our tagline, 'Building homes, rebuilding lives,'" Ivey shared. "For us, the really important thing we do is assisting our veterans with rebuilding their lives. These custom homes are a start, but we continue our relationship with the veterans to assist them as they go on with their life goals."
Visiting the home of Marine veteran Adam Kisielewski, the pride and comfort he feels in his HFOT residence is quickly apparent. Kisielewski, who lost his left leg and right arm in an IED attack in Iraq in 2005, has lived in the Maryland home for 10 years with his wife Carrie and son Evan. The house supports all of Adam's mobility needs, whether in a wheelchair or using his prosthetic leg.
From the wider door frames and hallways to the lowered kitchen counters, appliances and cabinets, the electric door openers and walk or wheel-in showers, everything is planned for ease of use for the veteran. The accommodations built into each home are designed to meet Department of Veterans Affairs and Americans with Disabilities Act guidelines, explained Ivey. "We also designed [floor plans] we felt were the right size, big enough to raise a family but not so large that utility and property tax costs would eat up a veteran's budget."
He added that an important requirement was to create a home completely accessible to someone in a wheelchair. The single level designs allow wheelchair users to do 360 degree turns anywhere in an HFOT home and a 4-foot wide sidewalk is also installed around the outside of the house.
That ease of access is a feature Kisielewski really appreciates. He explained that in the early years of his recovery, he and his wife lived in a traditional multi-level home.
"All the doorways were narrow, so I didn't even own a wheelchair while we lived there but I constantly had issues with my leg, with skin breakdowns from having to wear my prosthetic from the time I got up to going to bed," Kisielewski said. "Now when I get home I can take my leg off and use my chair."
He smilingly pointed out the nicks and smudges on door jams and walls made by his chair over the last 10 years as he's raced Evan around the house. Kisielewski called moving into his HFOT home a life changing experience for the whole family.
"First being able to use a wheelchair made a big difference to my health. Being able to take my prosthetic off allowed my leg to heal so I could get back into athletic activities. I dropped 55 pounds after moving in," he noted.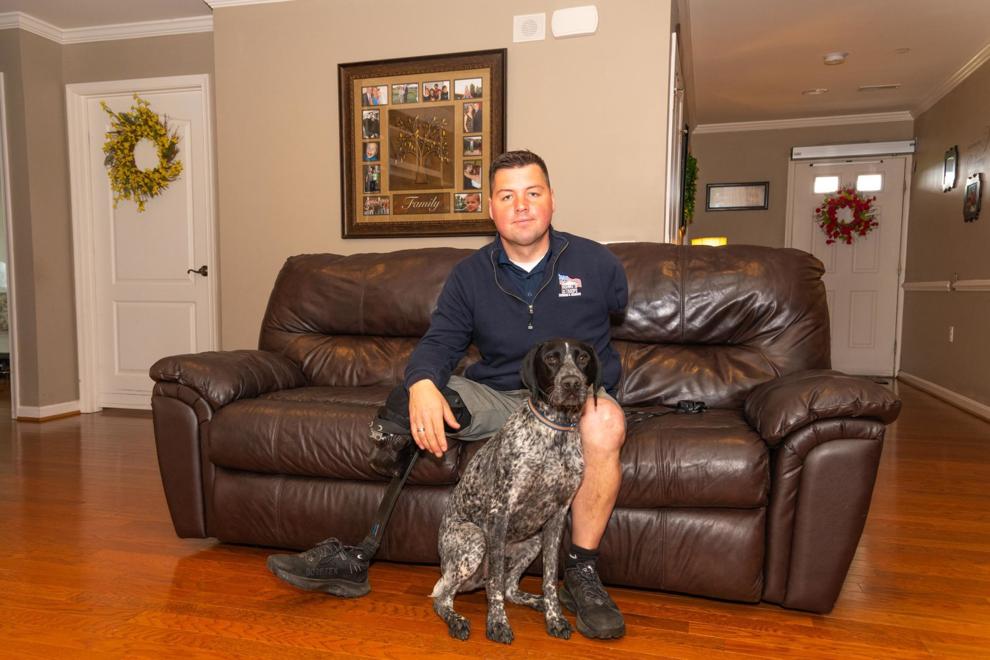 The financial benefit of not having a mortgage enabled Kisielewski to leave his job with a defense contractor to complete his education, earning a master's degree. That created the opportunity for him to enter the nonprofit world, where he currently serves as president of NPLB Outdoors (nplboutdoors.org) and sits on the board of HFOT. Adam noted that his improved health and finances has allowed him to pursue new passions, like getting a pilot's license and riding his custom motorcycle with a local club.
For his wife Carrie, their HFOT home has allowed her to be able to leave the house with a sense of relief.
"I'm comfortable leaving because I know that Adam won't be climbing any stairs, he can safely prepare and cook dinner and our shower is safe for him to move in and out of," she explained. "I don't have to constantly hover to make sure he's not slipping or falling. Our first home had two flights of stairs. Watching Adam walk down steps holding a newborn was terrifying, but we knew he had to get used to doing it because that was our home. Homes For Our Troops has eliminated those worries."
Those positive experiences have been repeated hundreds of times among the other veterans, spouses and caregivers who live in HFOT homes, said Tom Landwermeyer, HFOT president and CEO.
"We know it really is life changing impacts that these homes have. After moving into one of our homes 95% of our veterans say the stress level on the whole family has gone down."
He noted that only 15% of HFOT veterans had a degree or were pursuing one as they began their home application process, and after moving in that percentage went up to 71%.
"For spouses and caregivers, the number was 14% before and shot up to 80% after move-in," Landwermeyer added. "Some of our veterans have gone back to work or joined non-profits. The employment rate almost doubles for the veterans after move-in and almost triples for the spouses and caregivers."
For the HFOT team, these statistics are proof that the 'life rebuilding' mission of the organization is just as successful as the home building.
"We know these veterans and their families are going to accomplish great things and we want to be there to celebrate their successes," explained Landwermeyer. "But we also know that veterans will be rehabbing for the rest of their lives. They'll go through some dips and dark times, and we want to be there for them then too."
To help that effort HFOT created a Veterans Support Team on their staff, with the mission of staying in contact with the veterans after they move into their home.
"We promised our veterans a quality home so if there are any issues with it, the support team can make it right, and we get feedback from our veterans on how to make our homes better," said Landwermeyer.
In addition, HFOT's Veteran Action and Advisory Team provides important peer mentoring. Shortly after receiving his home, Kisielewski played a key role in standing up the VAAT as a volunteer. While many members of HFOT's leadership and board have military experience Landwermeyer admitted that they cannot often relate to issues of their home recipients. So the VAAT is made up of homeowners, who are best able to speak with other severely injured veterans about their problems.
"There isn't (another organization) to our knowledge that stays in contact with their veterans forever, and we do," added Landwermeyer. "We make sure our veterans know that. It speaks to the family aspect of the organization. We are a family and watch out for each other."
According to HTOP there are still over 1,000 veterans, based on VA numbers, who qualify for specially adapted homes and the organization's ultimate goal is to build a mortgage-free house for all of them. Veterans can go to www.hfotusa.org to learn more about applying for the program.
For those who'd like to support HFOT's mission, Ivey said that there are three ways to assist the organization's efforts:
"First welcome the veteran and their family into your community. We feel building a strong network of support within a community is vital to assisting our veterans with rebuilding their lives;"
"Second, help us spread the word about HFOT. We work very hard to keep 90 cents of every dollar donated going towards the mission which doesn't leave a lot for advertising. We rely a lot on word of mouth and veteran referrals;"
"Third, you can donate or fundraise for us. 65% of our revenue is from individual donors."
HFOT's website includes a calendar of events that lists key hand-off ceremonies and fundraisers across the country. You can also see dates for volunteer build teams, perhaps in a neighborhood near you. Learn more at www.hfotusa.org.